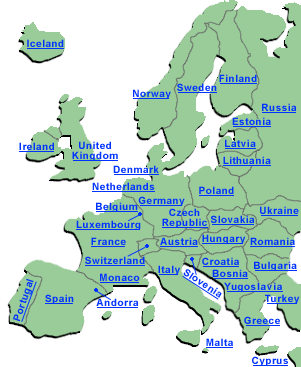 Europe – a historical, cultural and geographical heavyweight that squares up confidently to any other continent on earth. From its Northern Lights to its Southern shores, this drama queen keeps on thrilling, surprising and confusing with her extraordinary wealth of sights, sounds, peoples and parties. Whatever your connection to Europe – whether descendent of one or more of its peoples, a current inhabitant or future visitor – be prepared for sensory overload as your eyes, ears and taste buds take the trip of a lifetime through a part of planet earth that never fails to dazzle.

Europe presents visitors ancient and modern with at every turn. As well as the birthplace of democracy in Athens, the Forum of Rome, the renaissance buildings and art of Florence, the graceful canals of Venice and the Napoleonic grandeur of Paris, there's always the less expected sites such as the Moorish palaces of Andalucía, the remains of one of the Seven Wonders of the World in Turkey, the majesty of a second Venice in St Petersburg and the haunting buildings of Auschwitz in Poland.
While Europe revels and takes pride in its extraordinary heritage, it is certainly not one to be limited by it. Indeed, the continent leads the world in fashion, art, music, architecture and design; just see the street styles and music scenes of London and Berlin, the ground-breaking design in Antwerp, Copenhagen and Stockholm or the amazing displays of contemporary art, well, just about everywhere, to confirm that.


If glorious scenery is your thing you'll not be disappointed either – check out the awesome fjords of Norway, the stunning scenery of the Scottish Highlands, the volcanic dramatics of Iceland, the breathtaking Alps of France, Switzerland and Italy, and the lesser-known mountains of Spain, Slovenia, Southern Poland and Slovakia. For beach life you can fight for some sand on France's Côte d'Azur, Spain's Costa Brava or Portugal's Algarve, or – far more enjoyably – discover your own pristine beach in Albania, Bulgaria or on the gem-like islands of Greece and Croatia.
Of course, travel in Europe is not always about the dazzling sights and world-famous museums. Perhaps the single biggest pleasure of travelling this incredible continent is the range of different people of all nationalities you'll meet along the way – whether fellow travellers or locals. However cosmopolitan your background may be, there's nothing quite like strolling the streets of Venice with a Venetian, taking a banya (steam bath) and being beaten with birch twigs by a Russian, or just kicking back, watching live music and drinking Guinness in a pub with a Dubliner.

This information reservation system is consistently being update with new tourism Operators, prices and information.